1/2" Thermostatic Mixing Valve
TH100
1/2" TMV, Thermostatic Mixing Valve with 1/2 male Thread, 1/2 Thermostatic Mixing Shower Valve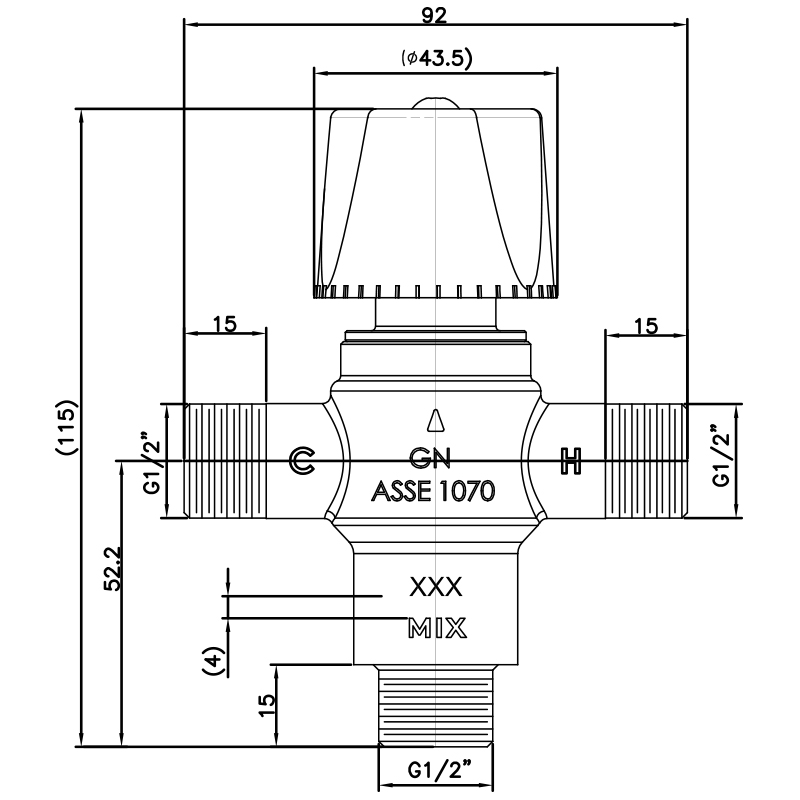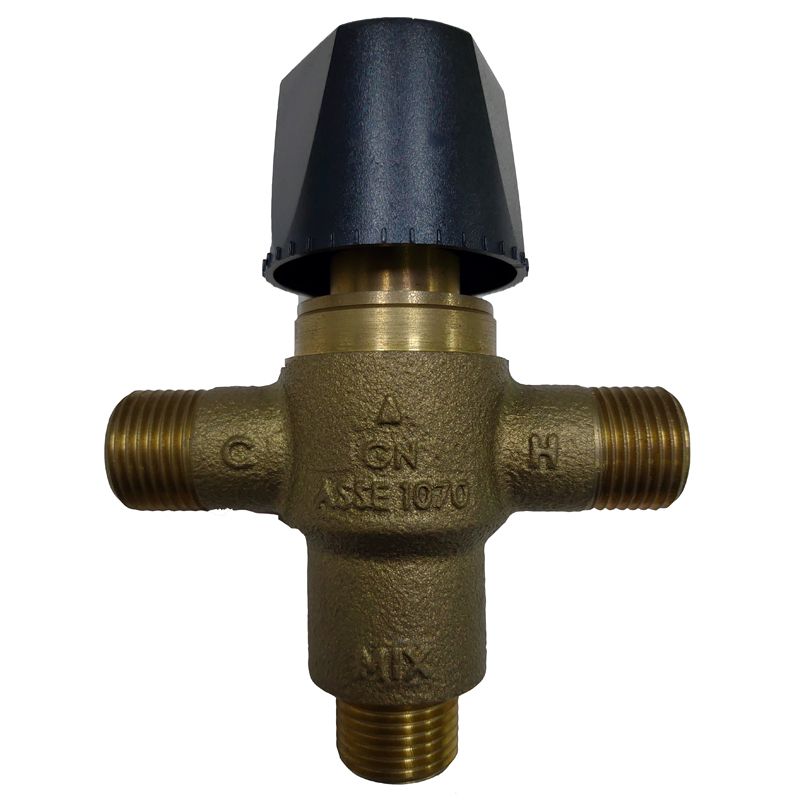 TH100 1/2 Thermostatic Mixing valve with 1/2" male threads controls the hot water supply to 81 – 120 degrees Fahrenheit. The high sensitivity to incoming supply temperature and pressure allows TH100 1/2" Thermostatic Mixing Valve to limit the water supply to prevent the potential scalding condition rapidly. Even under the low flow rate at 0.5 gallon per minute / 0.5 GPM, TH100 still works fine to protect user from scalding. Low lead and toxic-free copper body passes NSF61 certification for kitchen and drinking application usage.

TH100 1/2" Thermostatic Mixing Valve with Neoperl Check Valves at both cold and hot water inlets to block the backflow and crossflow to damage heater or cooler at water supply failure.
High Sensitivity - Anti-Scalding function works fine even in the 0.5GPM low flow rate
Water-Saving regulation restricted water usage and limited the flow rate at low level in order to decrease the water comsuption. High Sensitivity by Geann TMV will stabilize the mixed water temperature and shut-off the flow when water supply failed even in the 0.5GPM low flow rate. Rapid reaction protect the users from potential burning and scalding damage at any circumstances.
Low Lead and Toxic-Free NSF61 certificated – can be installed in Kitchen and Drinking Water Applications
Geann Thermostatic Mixing Valves are certificated by ASSE 1070, NSF-61/9, NSF 372. It has cUPC certifications. Geann TMV could be used in residential and light commercial environments. With Low Lead and Toxic-Free material usage, you can use Geann TMV at kitchen and drinking water site for either temperature control or Anti-scalding device.
Specification
TH100 1/2 Thermostatic Mixing Valve
| | |
| --- | --- |
| Body Material | Low Lead Bronze |
| Connection Size | 1/2 Male Thread |
| Certifications | NSF 61-9, NSF 372, ASSE 1070 |
| Capacity | 18 GPM at 125 PSI |
| Outlet Temp. Range | 27 - 49°C (81 - 120°F) |
| Hot Supply Temp. Range | 49 - 82°C (120 - 179.6°F) |
| Cold Supply Temp. Range | 4 - 29°C (39.2 - 84.2°F) |
| Hot Water Inlet to Outlet Differential Temp. | 3°C |
| Hydrostatic Pressure Endurance | 500 Psi x 1 min |
| Outlet Temp. Accuracy | Within 1.7°C (3°F) |
| Maximum Inlet Pressure | 125 PSI |
| Minimum Working Flow Rate | 0.35 GPM |
Photo Gallery

Files Download

---

The catalog includes dimension and connector types of Thermostatic Mixing Valve.

---

---
Press Release
All Cartridges Complied to California AB100 Law

Geann Cartridges and Valves are all complied to California AB100 Law. Our products are certified by both NSF International and IAPMO.

Read More

1/2 Half inch Faucet Plastic Cartridge

1/2 Half inch Two Handle Faucet Plastic Ceramic Cartridge for Faucet, Basin Application.

Read More

Pressure Balance Valve With Diverter

Pressure Balance Valve With Diverter for Anti-Scald and Shower Application.

Read More